This Is Where High-Tech Comes Into Play
The advantages of RADOX® railway cables from HUBER+SUHNER for rail vehicle construction

Nowadays, railway vehicles are highly complex and feature more and more technologies on board that depend on efficient power and data transmission. Consequently, a greater number of cables and wires are installed - which in turn influences the need for more space and increases vehicle weight. Manufacturers and operators therefore prefer solutions that are light and compact in order to mitigate any negative impacts on performance and operating costs.
At the same time, railway cables must comply with strict standards and safety regulations to ensure that they will not cause any harm to passengers in the event of an accident: in addition to a wide temperature range, they must be resistant to oil, fuels and chemicals and be able to withstand high electrical and mechanical loads. Cables and wires in railway transport should function reliably over a long period of time in tough everyday conditions and must not burst into flames in the event of a fire. These demands can only be met with special materials and designs.
Special Materials for High Temperatures
With its RADOX® cable series, the Swiss manufacturer HUBER+SUHNER has developed a product range specially designed for use in railway vehicles. With their electron beam cross-linked insulating materials, the cables are extremely resilient mechanically, do not melt at very high temperatures and remain dimensionally stable even in the event of a short circuit. The high-tech materials also allow for a reduced wall thickness and therefore save space and weight. RADOX® railway cables are suitable for cabling rail-bound vehicles such as regional and high-speed trains, underground trains, trams and locomotives. They are applied, for example, in the driver's cab, in drive motors, air-conditioning systems, control and safety systems, in the running gear or in lighting systems.
The RADOX® product range has been successfully tested in accordance with various international standards such as EN 50264 and EN 50306 and therefore fulfils all requirements for cables and wires in rail vehicle construction. As a distribution partner of HUBER+SUHNER, HELUKABEL offers the complete product range – worldwide with high stock availability and no minimum order quantities. A cut-to-length service is available and customer-specific logistics solutions enable a reliable supply of the items required. HELUKABEL also supplies high-quality electrical connection solutions for railway infrastructure including power cables for supplying power to tracks and pantographs, control cables for signalling technology and data and fibre optic cables for information transmission.
New Railway Cable Catalogue
We have summarized our entire portfolio for railway vehicle construction in our brand-new catalogue "Cables and Accessories for Railway Vehicles", which you can download here.
Take a look!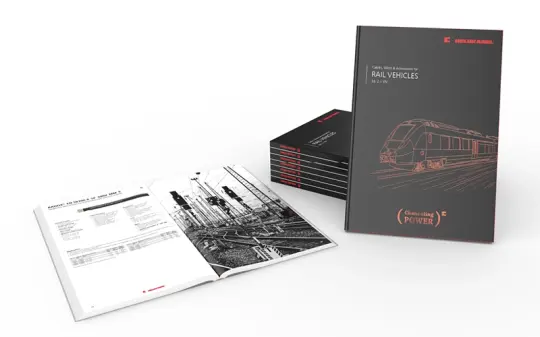 Back